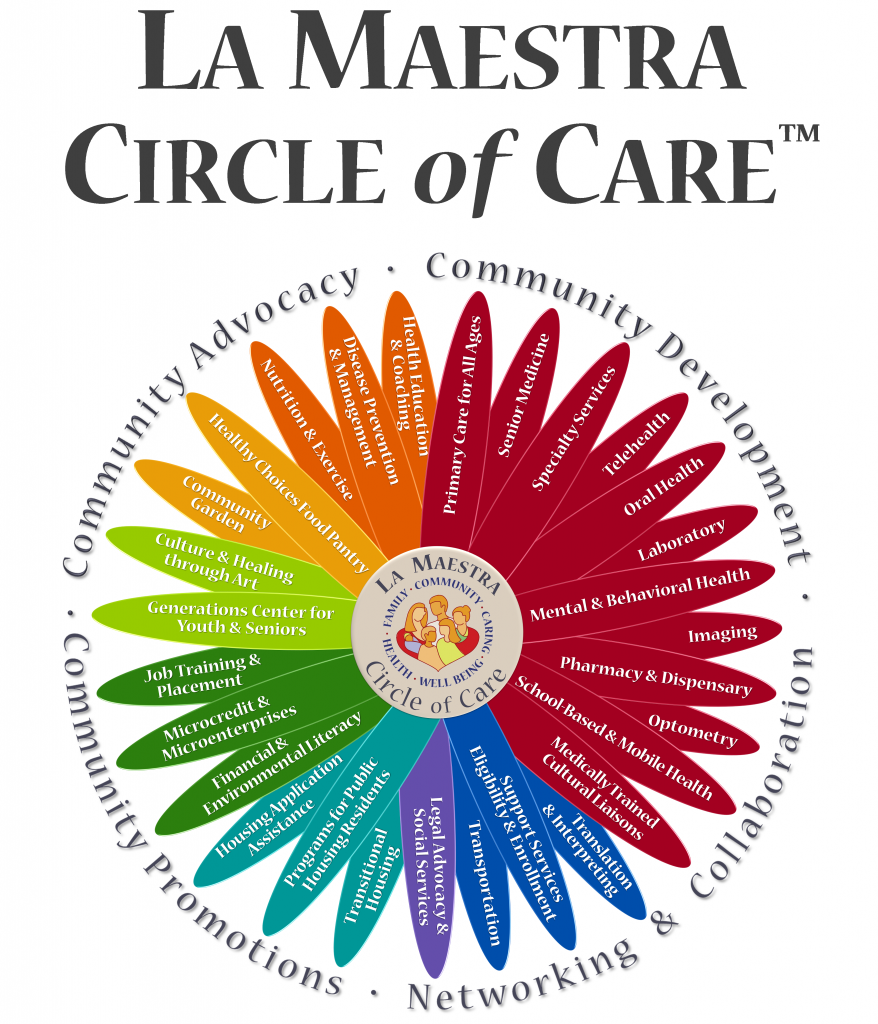 The La Maestra Circle of Care® is a holistic, solution-based approach to addressing the health and wellbeing needs of diverse emerging communities—because complete wellness requires more than just a trip to the doctor. Since the first clinic opened in 1990, La Maestra's board and staff recognized that for a patient and family to be healthy, they must have barrier-free access to integrated services including nutritious food, safe affordable housing, job training or continuing education opportunities, and programs that promote wellbeing.
La Maestra's staff, who is from the diverse populations served, has embraced the Circle of Care® philosophy, working together to identify the total needs of patients and attend to them through preventive care, education, treatment, and referrals to services that address the social determinants of health, ultimately guiding patients and their families to wellbeing and self-sufficiency. The Circle of Care® involves a network of integrated services provided by La Maestra Community Health Centers, La Maestra Foundation, and partner organizations. La Maestra strives to overcome barriers, streamline workflows and improve quality, and it continuously broadens the Circle of Care® to respond to growing needs, while enhancing its effectiveness through state-of-the-art technology including eHealth solutions and custom population health management systems.
The Circle of Care® approach makes La Maestra unique among the healthcare organizations in the region. La Maestra's total commitment to the health and well-being of the individual and his or her family extends far beyond what normal healthcare organizations are prepared to provide. La Maestra has been recognized locally and nationally for its commitment to develop and share this grassroots, innovative, and scalable model.