Dental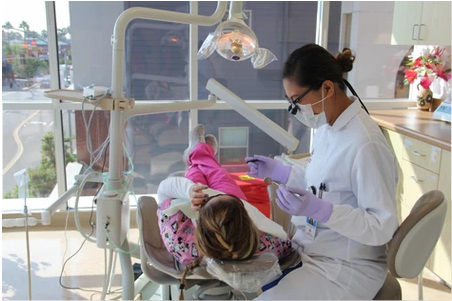 Oral health services are available at the following locations:
City Heights
Hoover High School
El Cajon First Street
El Cajon Broadway
7967 Broadway Lemon Grove
National City
Throughout the organization's ten dental suites and one mobile medical/dental unit, La Maestra is able to provide comprehensive dental services to vulnerable populations of all ages. Among the dental services that La Maestra provides are free screenings, diagnostic care, preventative and restorative procedures, endodontics, periodontics, prosthetics, and oral surgery. La Maestra accepts many different dental insurance plans including the dental plan offered under Medi-Cal known as Denti-Cal, and for those with no dental coverage, La Maestra offers a sliding fee scale and support for dental care costs when possible through grant-funded programs.
La Maestra recognizes the rising need for dental services among low-income populations, especially the need for restorative procedures among patients with chronic disease, people in recovery from substance abuse, and victims of domestic violence and trafficking. In order to successfully manage their chronic disease and avoid co-morbidities, it is crucial for patients with chronic disease to access oral health education and preventative dental services that are integrated within their primary and behavioral health care.
La Maestra also provides supportive and challenging educational environment where dental residents can hone their skills to become good clinicians. Our Advanced Education in General Dentistry or AEGD program allows the residents to be exposed to various cases with diverse cultural patient backgrounds. Faculty members model a compassionate, conscientious and ethical care towards their patients while providing guidance and supervision that ensures patient safety.
Please call La Maestra's main line at (619) 280-4213 to schedule an in-person appointment with a dental provider. Hours Monday-Friday 8am-5pm Saturday 8am-2pm.