Founding | 1986

La Maestra Amnesty Center is founded in the City Heights community of San Diego. The educational center provides services to help refugees and immigrants gain permanent residency and citizenship, including classes in ESL, Civics and US History, a child literacy program, vocational trainings and placement, small business development assistance, translation, and help to complete applications and prepare for residency and citizenship exams and interviews with INS. Volunteers from the center go to homes to photograph and fingerprint disabled applicants and assist them with applications.
Amnesty Center | 1990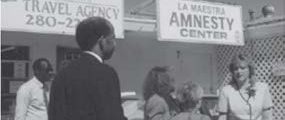 La Maestra Amnesty Center's more than 12,000 students voice the need for culturally appropriate health services in an environment where families could feel safe, not worry about being denied services based on lack of insurance, and where providers spoke their languages and understood their cultural beliefs. In response to the Student Council's request and community needs, La Maestra Family Clinic is founded as a DBA of the Amnesty Center and leases the first Fairmount Avenue residential unit, which is converted into a licensed medical clinic under direction of Dr. Courtney White. The Medically Trained Cultural Liaison Model is created and becomes a core model to all services developed within La Maestra's Circle of Care throughout the next 25 years. In 1991, La Maestra Family Clinic, Inc. is incorporated as an independent 501(c)3 nonprofit licensed community clinic.
Headstart Moves to La Maestra! | 1990 – 2000

HeadStart moves its central headquarters to La Maestra's campus on Fairmount Avenue. WIC also establishes a site on the campus. Ties developed with Neighborhood House, MAAC, Copley YMCA, and others result in furthering La Maestra's Preschool program, Child and Family Literacy programs, and easing refugee and immigrant children and their families into the elementary school phase in the United States. This provides a one-stop shop service delivery system to the community and brings like-minded organizations together, greatly enhancing their respective and collective organizational missions. Alexei Ochola from MAAC joins the LMFC Board of Directors in 1996.
Agricultural Workers and Day Laborers Unite! | 1993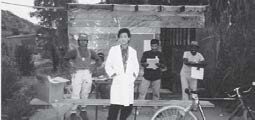 Migrant agricultural workers and day laborers in northeast San Diego voice a need for healthcare and social services to address problems including chemical rashes, sexually transmitted diseases, environmental and housing challenges. La Maestra Family Clinic obtains a mobile office trailer and collaborates with a church with land in Pauma Valley near the fields, offering health care and education as well as amnesty services twice weekly for five years.
Primary Care | 1994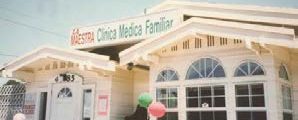 Expanded Access to Primary Care grant funding from the State of California enables La Maestra Family Clinic to serve more uninsured and underinsured patients. La Maestra Family Clinic expands the Fairmount Avenue clinic, renovating two additional buildings for expanded Women's Health services.
La Maestra brings Breast & Cervical Cancer Screening | 1994

La Maestra Family Clinic brings Breast and Cervical Cancer screening along with peer promotora community education to uninsured, low-income communities in San Diego, and is the first clinic in San Diego to participate in a pilot program with the Center for Disease Control, partnering with the Ida Green Cancer Center at Scripps Mercy Hospital and Operation Samahan. Primary Care and Women's Health services flourish and more specialty care is brought in to meet the growing need, including Internal Medicine and Oncologist services for insured and uninsured patients with breast cancer.
La Maestra Expands Circle of Care | 1995

Building on expertise and partnerships built through La Maestra Amnesty Center's economic development programs, La Maestra Family Clinic begins expanding its Circle of Care to include additional economic development, community development, education and housing related programs and collaboratives. Through collaborations with partners such as Metropolitan Area Advisory Committee on Anti-Poverty (MAAC) and City Heights Community Development Corporation, La Maestra Family Clinic bridges health and housing, bringing preventative health care and education, healthy housing assessments, and eligibility services to low-income housing complexes where many residents are immigrants and refugees, while also linking them to a culturally competent medical home at the clinic in City Heights. La Maestra Family Clinic also works with these partners to implement vocational skills training and job creation for housing residents. East African refugee residents of housing complexes are trained and hired as Medically Trained Cultural Liaisons, and entry-level medical staff at local healthcare facilities and schools.
Refugee Resettlement | 1998

La Maestra Family Clinic receives significant grant funding from Office of Refugee Resettlement, CalWORKs, and others to provide job training and placement for the "hardest to place" refugees. In collaboration with MAAC and other partners, La Maestra provides entry-level medical and support staff positions to refugees and advances its innovative Medically Trained Cultural Liaison Model to improve cultural diversity in the healthcare field. Over 345 new jobs are created in the first year and hundreds more in the following years. Many of these motivated, new employees are able to move from receiving welfare into the workforce. Strong, ongoing alliances are formed with local employers from healthcare, adult education, children's literacy, government agencies and legalization, among others.
First Dental Clinic | 2001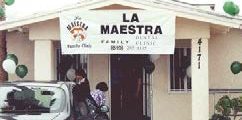 The first La Maestra Family Dental Clinic opens on the main clinic site in City Heights through a grant from Delta Dental.
Ford Donation | 2002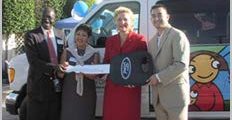 Ford Motor Company donates a 15-passenger Ford Econoline Van to La Maestra as part of its Salud Sobre Ruedas (Health on Wheels) program to foster health education and to help Latinos attain much-needed transportation to healthcare clinics. The new van enables the clinic to shuttle 200 more patients per month than the aging 1991 Mazda family van on loan to the clinic from director Zara Marselian.
Zara Marselian Receives Leadership Award | 2003

Zara Marselian receives the 2003 Leadership Award, and the 2004 Overall Leadership Award from San Diego's Channel 10 KGTV. Leonard Villarreal, a well-known local news anchor for Channel 10 visits La Maestra Family Clinic in City Heights to celebrate the achievement with employees and volunteers of the clinic.
Food Bank Distribution | 2004

Building on its previous efforts to link nutrition to healthcare through food donation drives for patients who do not have enough money for food for their families, La Maestra Family Clinic becomes a Food Bank distributor, launching its onsite Food Pantry to offer free nutritious staples to families in need once a week, later increasing to twice weekly.
La Maestra Family Wellness Unit | 2004

La Maestra Family Wellness Unit is established in City Heights to expand integrated, culturally competent mental and behavioral health services for all ages, including treatment for depressive and anxiety disorders, as well as severely mentally ill, uninsured, and low income residents, through counseling and medication management. By 2007, the unit operates full-time and expands its Enhanced Psychosocial services at all sites. Family Wellness Unit staff trains 80 employees at medical and dental sites about how to refer patients in need of mental health services, and develops programs tailored especially for refugee populations, pregnant women, seniors and children.
First Telemedicine Program in San Diego | 2005

La Maestra Family Clinic builds onto the OB/Gyn ultrasound services at City Heights and begins to transport patients from satellite clinics to facilitate access to this service. La Maestra also becomes the first urban clinic in San Diego to implement a Telemedicine program, providing mental health services to rural clinics in San Diego and Imperial counties including Borrego Community Health Foundation, Clínicas de Salud, Sycuan Medical Center and Mountain Health & Community Services.
Introduction of Senior Medicine | 2006

A formal Senior Medicine Program begins at the City Heights clinic with a geriatric specialist onsite once a month, in collaboration with the University of California, San Diego School of Medicine Geriatric Division. By 2008, the program expands with the geriatrician onsite weekly. Senior Peer Promotora Program launches in partnership with the Council of Community Clinics and funding form San Diego County Mental Health. The program recruits and trains health consumers and family members, or "promotoras", who speak English, Spanish, Somali, Laotian, Nuer, and Vietnamese to provide outreach, education, and support groups to assist low-income, uninsured older adults and their families to access primary care, mental health, and social services. Presentations also include fall prevention, domestic violence, senior depression, and financial literacy.
Eye Clinic | 2007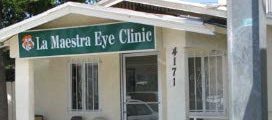 La Maestra Eye Clinic opens on Fairmount Avenue to expand access to comprehensive optometry services, particularly retinopathy screening for diabetic patients and children's school readiness.
Community Pharmacy | 2008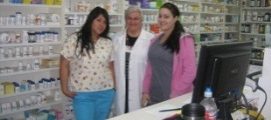 After eight years of providing medication for the uninsured through its dispensary, La Maestra Family Clinic opens its Community Pharmacy, a culturally-competent, comprehensive retail pharmacy, at the City Heights clinic site to ensure that both insured and un-insured patients obtain the prescriptions they need and understand how to use medication, through the 340(b) Program, Share the Care and other initiatives. Prescriptions are soon delivered daily to La Maestra's other clinic sites.
Gold LEED-Certified Health Center | 2009

Kaiser Permanente awards a $1 million grant to La Maestra Family Clinic to support the construction of its state-of-the-art, Gold LEED-certified health center facility. The grant is the largest single contribution received by La Maestra from any single donor, and the largest grant given by Kaiser Permanente to a San Diego nonprofit. The contribution is celebrated by Kaiser Permanente executives from across the state, San Diego Mayor Jerry Sanders, The California Endowment director Dr. Robert K. Ross and La Maestra's capital campaign team.
First Lemon Grove Health Center | 2009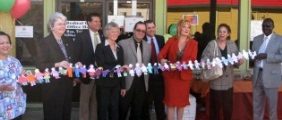 Promotoras and Medically Trained Cultural Liaisons representing growing population of refugees from Somalia and Sudan as well as Latinos voice a need for services in Lemon Grove. La Maestra Family Clinic establishes the first community health center there by opening a Medical and Dental health center, providing a health home for diverse, low-income residents in this area of southeast San Diego County.
Culture and Healing through Arts Initiative | 2009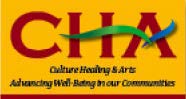 With the goal of enhancing the future green health center through the addition of thoughtfully selected art and wayfinding elements, La Maestra Family Clinic and a group of local and regional leaders in healing and the arts launch La Maestra's "Culture and Healing through Arts" (CHA) initiative. CHA offers temporary exhibits and a permanent collection of exceptional art by emerging and established regional artists, reflecting healing and diverse cultures; collaborative art projects; opportunities for artists-in-residence and a retail gallery.
Jardin de la Vida | 2009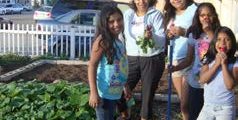 With a two-year grant from the Tides Foundation and The California Endowment, La Maestra Family Clinic and La Maestra Foundation collaborate to establish the Jardin de la Vida, a community garden in City Heights where women from the Microcredit Program and their children can grow fresh produce. Through the grant, hundreds also participate in health education classes, zumba aerobics classes, recycled crafts classes, healthy recipe sharing and creation of a Healthy Choices recipe calendar.
USGBC LEED Gold-Certified Health Center Opens | 2010

The USGBC LEED Gold-Certified, 34,660 square foot health center opens in August in City Heights, bringing all health and support services into a state-of-the art building that serves as a hub for health, wellbeing and community. The building more than triples La Maestra Family Clinic's primary care service capacity with additional space for mental health, dental, optometry, pharmacy, laboratory, health education and support services, in a healing environment.
Legal Advocacy Services is Established | 2011

The Legal Advocacy Services department is established in the City Heights health center as a partnership between La Maestra Family Clinic and La Maestra Foundation, serving 330 clients in its first year. This partnership provides assistance and support to people who face rights violations or who are victims of crime, issues that too commonly affect the health and wellbeing of La Maestra's low-income, culturally diverse service populations. Collaborative partners include the US Committee on Refugees and Immigrants, National Human Trafficking Victim Assistance Program and Casa Cornelia Law Center. The majority of clients are victims of domestic violence and trafficking. Staff also offers presentations to service providers on recognizing signs of domestic violence and trafficking; how victims qualify for assistance programs; and steps that a victim can take to transition from an abusive situation to finally achieving independence.
Our Culture and Healing through Arts program flourishes! | 2010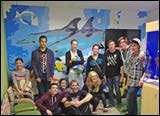 La Maestra's Culture and Healing through Arts (CHA) program flourishes with major art installations in the City Heights health center. In July 2011, "Rising Star" by artist Terry Hansen, a talented San Diego resident and longtime La Maestra patient renowned for his woodworking ability, is installed in the lobby. The star is made of repurposed exotic wood from around the globe, steam bent to fit the curve of the wall. In December 2011, local teens paint animal-themed murals in the pediatrics exam rooms. In March 2013, the City of San Diego Commission for Arts and Culture unveils "Grandmother's Kitchen/Grandfather's Garden", a digital sculptural installation showcasing a culinary visual history of the City Heights community, presented through the shared experiences and culturally specific stories of food. The installation, created by local community artist Lynn Susholtz funded by a gift from artist Niki de St. Phalle through Niki Charitable Art Foundation, is the first partnership of the Arts Commission with a nonprofit for long-term placement of a City-owned public artwork.
Imaging Center Opens in City Heights | 2012

The Imaging Center opens in the City Heights health center, the first of its kind in a community health center, offering state-of-the-art Full Field Digital Mammography and DEXAscan Bone Densitometry services onsite in the health home with teleradiology. This dramatically reduces wait times for appointments and results, improves patient compliance and provides much needed access to screening for early detection of breast cancer and osteoporosis.
National City Clinic Relocates | 2012

La Maestra's National City Clinic relocates to a larger facility on Highland Avenue, expanding access to medical care, mental health, health education. A dental clinic is added to meet the need for affordable oral health services in the South Bay.
La Maestra Rolls Out the Mobile Clinic | 2012

With an Affordable Care Act grant, La Maestra rolls out its 40-foot Mobile Clinic, equipped with 2 dental operatories and a medical exam room, providing medical, dental and vision screening services at schools in City Heights and National City. Additional grants from Verizon Foundation in 2013 and 2014 equip the mobile clinic for telemedicine and digital optometry services. The mobile clinic also serves the community at numerous health and resource fairs held in parks and housing facilities.
Generations Center Opens | 2012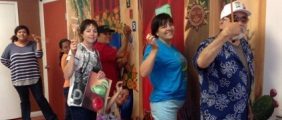 La Maestra's Generations center opens in the former amnesty center and clinic buildings on Fairmount Avenue, with start-up funding from The California Endowment and an intergenerational program grant San Diego County Aging and Independence Services. Older adults and youth in City Heights are offered a growing range of programs designed to guide them toward overall wellbeing and greater opportunities in health, lifestyle, education and their future careers. Services include self-esteem and leadership development, academic support, Culture and Healing through Art classes, physical exercise and healthy eating, computer, STEM and job skills training, field trips and exposure to enrichment and career opportunities.
La Maestra Family Clinic Receives Leadership Award | 2012

La Maestra Family Clinic receives the H. Jack Geiger Award for outstanding leadership in Program Management from the National Center for Health in Public Housing at its annual National Training Conference.
Outreach, Education and Enrollment | 2013

With Affordable Care Act grants and training, La Maestra Family Clinic's Community Health Access Department provides Outreach, Education and Enrollment Assistance to inform and enroll community members for Covered CA and Medi-Cal. 12,177 people receive education about their options under the Affordable Care Act; 533 Applications are submitted for Covered CA; and 1,020 uninsured patients become insured through this grant. In 2014, La Maestra Family Clinic becomes one of 25 community-based organizations across the nation to partner with National Council of La Raza and Walmart to implement the Comprando Rico y Sano Program. The program aims to increase Latino awareness of the importance of healthy cooking on a budget while helping to enroll eligible individuals and families into CalFresh, the federal nutrition assistance program. CHAD helps over 2,000 eligible individuals to enroll for benefits.
Hope Clinic Opens | 2014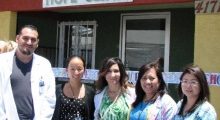 With Federal 330(h) homeless designation funding, La Maestra Family Clinic opens its Hope Clinic in City Heights. The new site is designed to welcome those struggling with housing, addiction, mental health and other issues, including homeless persons and teens. It provides a safe, comforting environment while addressing patients' needs by linking them into the comprehensive health, wellbeing and support services in La Maestra's Circle of Care through HCDC's I Choose Recovery Program.
Woman of the Year | 2014

Zara Marselian is selected as the 2014 Woman of the Year by Lorena Gonzalez, California State Assembly, 80th District. That same year Zara becomes a Fellow of the American College of Healthcare Executives, the nation's leading professional society for healthcare leaders, representing an achievement of the highest standard of professional development.
Sister Cecilia Award | 2015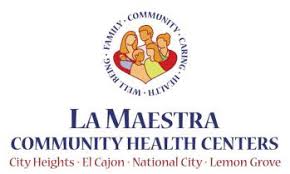 La Maestra Familiy Clinic is award the Sister cecilia B. Abhold Award for Excellence in Outreach Programs by the National Center for Health in Public Housing. The same year, Zara Marselian receives the Social Empowerment Award from the nonprofit Alliance4Empowerment, and December 8 is declared "Zara Marselian Day" in San Diego County.
Making Mammography History | 2015

La Maestra Family Clinic rolls out San Diego County's first ever Mobile Mammography Coach in October 2015, in partnership with Community Health Imaging Centers and with major sponsorship from Susan G. Komen San Diego. The event, attended by Mayor Kevin Faulconer and organizations involved in the fight against breast cancer, features testimonials by survivors who were able to access early detection through La Maestra's breast cancer education and screening programs and became breast cancer promotoras. The coach, staffed by a culturally and linguistically competent team, is equipped with state-of-the-art full-field digital mammography equipment and 3-D Tomosynthesis. Additional support for the coach and numerous screening events throughout the county is provided by the American Cancer Society, San Diego Chargers, San Diego Gas & Electric, Walmart, the Kroger Foundation and KyXy FM and Energy 103 FM radio.
Wellness Supportive Services | 2016
La Maestra establishes its Wellness Supportive Services Department based in the Hope Clinic for the homeless. All patients have access to substance use disorder services using harm reduction and motivational interviewing models, individual and group counseling, and medication assisted treatment from certified substance abuse counselors and an addiction psychiatrist. For those in need of additional treatment, La Maestra partners with University of California San Diego's Glifford Clinic, Mental Health Systems and Acadia Healthcare Company/Fashion Valley Comprehensive Treatment Center.
PRAPARE | 2017

Building on several years of developing its own population management tools to comprehensively track the social determinants of health and ensure each patient accesses the variety of health and wellbeing services and case management they need to address them, La Maestra joins several other health centers in implementing the Protocol for Responding to and Assessing Patients' Assets, Risks, and Experiences (PRAPARE) assessment tool. With funding from CCI, La Maestra pilots several new approaches to improve the waiting room experience and further streamline access to Circle of Care social services through the use of electronic surveys administered while patients wait for their appointment.
Zara's Second Book | 2017

A pharmacy robot was purchased to alleviate the need for pharmacists to manually count pills, which has allowed pharmacy staff to refocus on what really matters— better patient care and medication compliance. A new dental suite opened in Lemon Grove thanks to a HRSA Oral Health Service Expansion grant. Zara Marselian publishes her second book, Transparent People. The book illustrates the real-life experiences of nine individuals who have risen from a life of addiction into a life of recovery. It is a glimpse of what life events led to their addictions, their lives in addiction, and what prompted them to emerge from that cycle.
Zara's Third Book | 2018

Zara Marselian publishes her third book, Surviving in the Shadows. The book illustrates the real-life experiences of people who have escaped from trafficking, domestic violence and political oppression. Through the collection of stories, as told by the people who have been trapped in these forms of modern-day slavery, the book provides an authentic and hopeful look into overcoming these injustices. La Maestra's Oral Health Initiative Program, serving children 0-5 and pregnant women, expanded access to health for the undeserved in a novel and innovative way through the Henry Schein Cares Medal. La Maestra was able to improve access to mental health, substance abuse, and obesity prevention services to Hoover High School, Clark (Monroe) Middle School, Rosa Parks Elementary, and Central Elementary School through integrated telemedicine that will allow students to quickly consult with a provider. La Maestra added Chiropractic services in an effort to further integrate the La Maestra Circle of Care services®, which provides primary and specialty care, including holistic medicine along with social services in an effort to improve overall health and wellness outcomes. The organization received two Substance Abuse and Mental Health Services Admiration grants (SAMHSA SBIRT and SAMHSA MAT-PDOA.)
La Maestra Expands Funds | 2019

La Maestra expands funds to access to OUD and SUD recovery support services for youth ages 12 to 24. The goal of this project is to expand access to comprehensive substance use disorder counseling and treatment services including medication assisted treatment (MAT) for low-income, uninsured and underinsured transitional age youth (TAY) and adult populations in San Diego. New Programs for people with Diabetes are expanded including continuous glucose monitoring (CGMs) through grant funding from Grossmont Healthcare District. Funding for Title X Comprehensive Family Planning services including patient education, counseling, cancer screenings, contraception methods, pregnancy testing, STI/STD testing, HIV testing including diagnosis and referral to treatment, and basic infertility testing services.
La Maestra Telemedicine | 2020

In light of the COVID-19 pandemic, La Maestra quickly pivots services and increase telemedicine and telephonic services by more than 65% and at the height of the pandemic 78% of clinic service are provided via telemedicine or telephonic visits In 2020, the organization added additional clinic sites and services including multiple Behavioral Health and Substance Use Disorder Service sites to meet the needs of the community. The organization now has 18 clinic sites, including primary care, behavioral health, pharmacy, dental suites, and school-based clinic sites. The organization also added ophthalmology services and a large Cough & Cold clinic site located at 4074 Fairmount Avenue in response to the COVID-19 pandemic. The site provides COVID-19 testing, including walk-up and drive thru testing, vaccination information and services, COVID-19 triage services. La Maestra received SAMHSA CCBHC funding to become a Certified Community Behavioral Health Center.
Health Homes Program | 2021

La Maestra added endocrinology, hepatology and home visiting to the organization's scope of practice. The organization has significantly expanded the Health Homes program to assist clients with chronic conditions including diabetes, serious mental illness (SMI) hypertension and asthma to get the care and service they need often without having to leave the comfort of their home. La Maestra also received multiple San Diego County grants for outreach, education and for a 21-housing unit that will be built at 4135 Fairmount Avenue.